Music & Performing Arts
Music & Performing Arts (Drama, Dance, Art) are an essential part of the Beaconside curriculum from when children start our school in Nursery until they start the next stage of their education at Secondary school.
Facilities and Resources
We pride ourselves on own excellent music facilities and resources. We have a dedicated music room with a vast range of musical instruments, from hand bells through to a whole class set of Ukeleles.
Music In the Curriculum
All children from Reception to Year 6 receive dedicated music lessons delivered by our specialist Music teacher.
Group Music Lessons
We offer a wide range of music lessons for children from year 3 to year 6. These are provided by Cumbria Music and we charge for these per term. in special circumstances we do offer scholarships for talented musicians where families are finding the cost difficult.
Orchestra, Groups & Choirs
We run a school orchestra for selected children and they meet once per week after school for practice. As well as this we regularly have groups performing in and out of school and several groups have been champions at Carlisle Music Festival.
Our talented teachers also run singing clubs; one for key stage 1 and one for key stage 2. From these clubs children have the opportunity to participate in our school choirs and perform in and around the local area.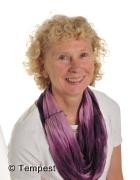 Mrs Elaine Kirkpatrick (Music & Performing Arts leader)