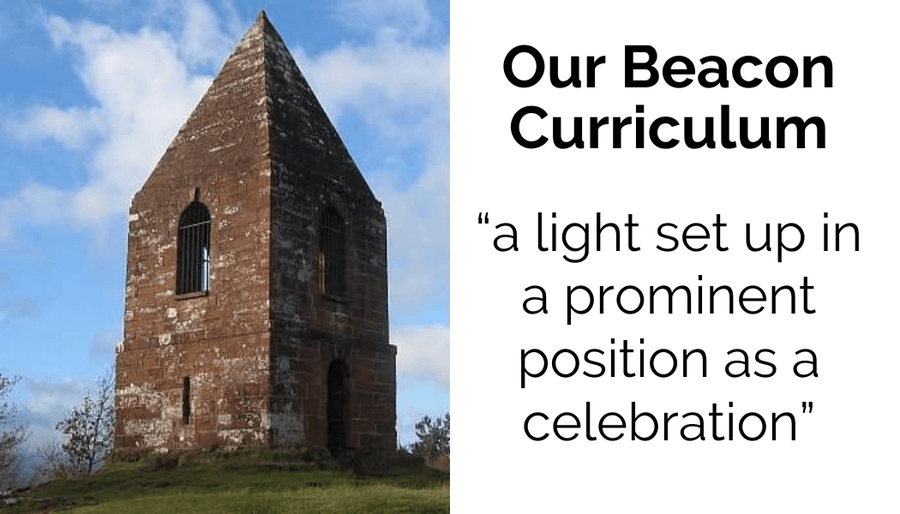 The Beacon curriculum is our planned approach to enabling children to meet our school vision of ensuring children embrace life, love learning and a desire to shine. The Beacon representing the sparks of imagination, the celebration of every child flourishing and taking a prominent position in serving our community.
There are three main learning threads for our curriculum and these have been prioritised when planning the specific curriculum content:
These are:
A deep understanding of the diversity in people- Influential people are carefully chosen throughout our curriculum to reflect different gender, beliefs, disability, culture and ethnicity and to show that people from a variety of different backgrounds and experiences have flourished in our world throughout time.
A deep understanding of the diversity in places- Children will learn about Penrith and the Lake District in depth and this will be revisited each year. Each time they will learn about different aspects and compare with different parts of the United Kingdom, Europe and the wider world.

A deep understanding of people's innovation- Children will be encouraged to study and learn from different forms of innovation throughout history and the modern day in order to encourage free thinking, courage and new ideas that they can show in their learning, wider life and in the future.
How do we ensure our learning is engaging and enriching?
We use five key areas to enhance learning and these are :

Educational visits, Experts and Residentials
Wherever possible, we are looking for children to have first hand learning experiences therefore we offer a wide range of Educational visits. We aim to take every child on at least 1 visit per half term. As well as this, we have experts that visit to school to further enhance the knowledge and experiences our children receive. From Year 2, our children are taken away on a residential where they will not only develop key curriculum knowledge, they will learn those all-important life skills, independence and life experiences. Further information on specific visits, visitors and residentials can be found on our Educational visits and experts page.
Beacon Subjects
As well as delivering the full national curriculum, we also have designed and planned specific programmes of study for areas of learning we hold dearly at Beaconside. These include outdoor learning, race and Equality and Mental Health. Outdoor learning is taught as a block of learning every term. Mental health and Race and Equality is weaved through our curriculum and also has a week each year where the children will learn in more depth about these areas. For more information, visit our Beacon Subjects page.
Below are two documents that go into more depth about our vision and intentions for our Beacon Curriculum.
The Beacon Curriculum Vision and aims
Curriculum Leader