Lepra Charity Workout 18.5.17
All the children at Beaconside had a brilliant 25 minute workout today in order to help the charity "Lepra." A huge thank you goes out to all the parents and family members who contributed to this wonderful charity. The children had a fun time working out to some upbeat tunes and their efforts in raising money for the charity did not go unnoticed! Well done, everyone!
Easter Bonnet Parade - 7.4.2017
What a way to finish our Spring term with Key Stage 1 Easter Bonnet Parade. This event is a highly anticipated event in our a Spring term calendar and a lovely way to finish a very productive term! All the happy faces say it all!
Beaconside Crowned Cumbria Champions!
County Indoor Athletics Champions 2017 - Penrith Leisure Centre - 29.3.2017
After winning the Eden District Finals last November our amazing Indoor Athletics team were again triumphant in the Cumbria County Finals today and were crowned Champions. It was a great competition; with a great outcome for a local school! Well done guys, you deserve all the plaudits you receive!
Red Nose Day 24.3.2017
Beaconside had a great Red Nose Day! The Coffee morning was a brilliant success as was the Red Nose Day sing during the afternoon.All we could see was a sea of red in hall. Great to see all the school turning out in red for the event. Many thanks to all the parents and children who donated cakes for the cake sale and coffee morning! All in a good cause.
Manchester United v Rostov UEFA Europa Round 16 Game 2 League16.3.2017
Beaconside School had another fantastic trip to the "Theatre of Dreams." Everyone had a superb night and all the children behaved incredibly, representing the school in an incredible light. It was great to see plenty of chanting and scarf waving in the stands from our cohort of Man Utd supporters!
It was gruelling viewing at times and United also endured the frustration of losing Pogba and Blind to injuries. However, all's well that ends well - they won thanks to a beautifully crafted goal by Mata and they are safely into the last eight of the Europa League, where no one will want to play them.
Again, a huge thank you goes out to all the staff who organised and supervised on the trip. Many thanks to the parents who helped with supervision too - we couldn't do it without you!
Winners of the Extreme Reading Competition 2017
Natasha Guy - Reception NT
Ryan Waite - 1G
Taylor Wilson - 3H
Thank you to all who took part.
Manchester United V Hull City EFL Cup semi-final (Ist leg) 10.1.17
Beaconside enjoyed a successful trip to Old Trafford (Theatre of Dreams) to watch Manchester United take on Hull City in the EFL Cup semi-final. Despite it being cold wintry weather and a long journey to boot, the children who attended were superb! Everyone behaved incredibly well and represented the school in a brilliant manner, the singing was great to hear too. Children were both sensible and very well behaved. To see Manchester moving one step closer to obtaining their first piece of silverware under Murinho was a spectacle to behold for all who attended.
Many thanks goes out to all the staff who organised and supervised the trip. Also, the school would like to thank all the parents who attended for their support and assistance during the course of the evening!
"And the Reds go marching on, on, on!"
Christmas Dinner 2016 - 7.12.16
One of the most popular dates in the Beaconside calendar, Christmas dinner day! Yet again, it was highly anticipated and unbelievably successful! All the smiley faces tell a happy story. Many thanks to the kitchen staff who, as always, delivered a delicious meal; enjoyed by both children and staff alike.
Singing Club
On Saturday 10th December, 18 children from the KS 2 Singing Club went to Acorn Bank National Trust to entertain visitors and staff with Christmas carols. We all had a great time singing (and enjoyed the juice and biscuits afterwards).
Operation Xmas Child.
We collected 98 shoe boxes to be sent to those most needy.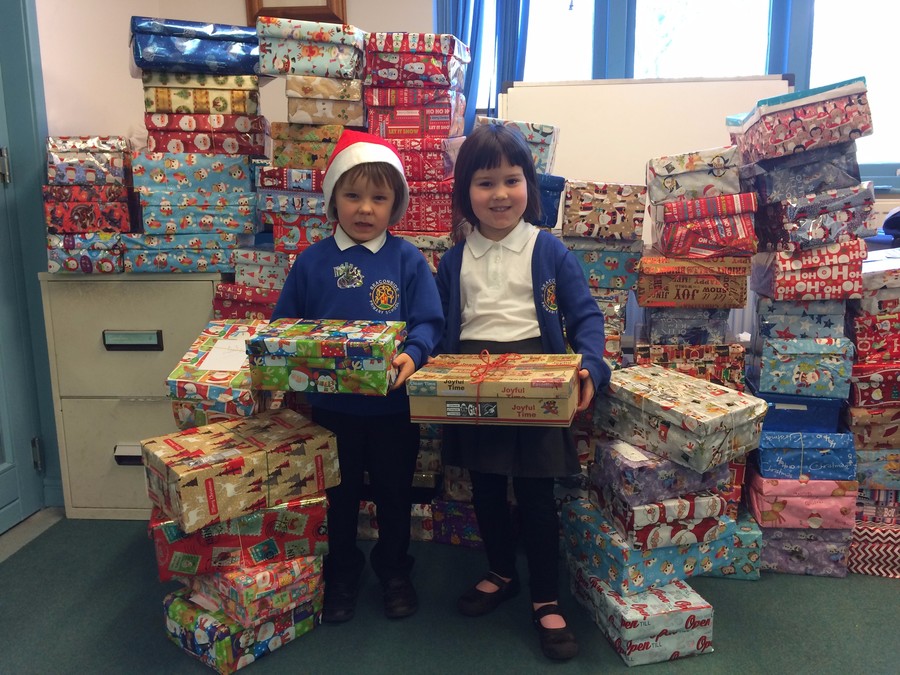 Ullswater Community College Prize Day - 20.10.16
Beaconside Primary School was kindly invited to attend UCC Prize Day by Mr Pattinson (Headteacher). This is a huge date in the Colleges calendar which celebrates both academic and non-academic success. It was fantastic to see so many Beaconside alumni in their prize list. Every performance which unfolded during the ceremony had at least one Beaconside former pupil which further highlights the calibre of past Beaconside pupils. Furthermore, two Beaconside alumni were Head Boy (Fergus Vequery) and Head Girl (Amy Hullock), both highly respected positions in the colleges ranks. In addition to this, our pupils got to see the amazing Union J deliver an impromptu performance during their giving of prizes! A great ceremony was had by all and our Year 5 children represented the school brilliantly well setting a great example to all. Many thanks goes to Mr Pattinson for inviting our school to a very worthwhile and inspirational ceremony.
Below: Our Year 5 pupils with former Beaconside pupils who performed in the band "The High Ground" and the current Head Boy and Head Girl.
Road Safety Day (GIST HAULAGE) - 17 / 18.10.2016
Road safety day was a great success. Children were further informed of road safety and awareness by employees of GIST haulage. Children, like the adults, were amazed at how little HGV drivers can actually see out of a cab when in close proximity to people and other vehicles; highlighting the need for extra vigilance when near vehicles on the road. A very worthwhile and informative session indeed!
Change Lives With Every Single Slice - Macmillan Coffee Morning 30.9.2016
The Macmillan coffee morning was a brilliant success. Both parents and children did a great deal of baking over the course of the week to ensure this morning was a success! A huge thank you goes out to everyone who baked and bought cakes supporting this fantastic charity. The school raised an amazing £454.70.
School Disco - Fundraiser for Mr Armstrong 21.9.16
On Wednesday 21st September the PTA held a disco for all children to raise funds for PE teacher Mr Armstrong. Mr Armstrong works in school on behalf of his company 54◦ and provides PE lessons for children during PPA. Unfortunately, before the summer holidays, Mr Armstrong had a fire in his home and as a result lost some of his PE equipment. With the generous support of parents and children a great night was had by all and we were able to present Mr Armstrong with a cheque for £650. We hope that this will be useful to him and on behalf of the PTA thank everyone for their attendance and continued support.