At Beaconside we pride ourselves on what our teams achieve at a District, County and National level. We hope the below pictures and the post competition reviews give you all a flavour of what we enter our teams into and what we here at Beaconside Primary School are all about. We want to provide our children maximum exposure to a myriad of sporting events ensuring they compete in the spirit of each event and in a supportive sporting manner.
This area of the website will be regularly updated with information from competitions that the sports teams have competed in. It will be updated with photos from the event and results, please keep checking for new information.
Keep checking for all the latest competition results...
Dixon Shield - Swimming
10.7. 2017 (Penrith Leisure centre)
The Dixon shield is steeped in history and is woven into the schools rich tapestry. It dates back to 1926 and has been competed for every year subsequently, in its 91 year history - even during the Second world war. The Shield was kindly donated to the Boys National School by a Mr Peter Dixon who originally hailed from Glasgow. It was created to encouraged children in the local area to learn to swim; after a tragic accident occurred on Lake Ullswater involving local boys. Beaconside inherited the shield from The Boys National School in 1979 when the Boys National School closed its doors for the last time.
This year, the shield - for the first time - was competed for by both y5 and y6. There were two heats and a final, all of which were very close indeed and all of which were swam for in Freestyle. Everyone who competed did so in a manner which befits the trophy and what it stands for. All were a credit to themselves and the school.
The 5 children who qualified for the final were Sienna Davidson, Georgia Harrison, Amara Rose, Beth Cowperthwaite and Maisie Walker. The final was both exciting and tense with Beth Cowperthwaite becoming the 2017 Dixon Shield champion.
Eden District Kwik Cricket Championship 2017
Beaconside entered two teams into the district Championships. It was a great day with both teams competing well despite some great opposition. Beaconside Bulldogs had the best of it winning their group undefeated before getting pipped in the semi finals by Penrudock school. Beaconside Bullets faced some stiff opposition, giving some determined performances both with the bat and the ball. However they just missed out on getting out of the group stages. Many thanks to all the helpers who walked the children to and from the event.
Beaconside Bulldogs 13.6.2017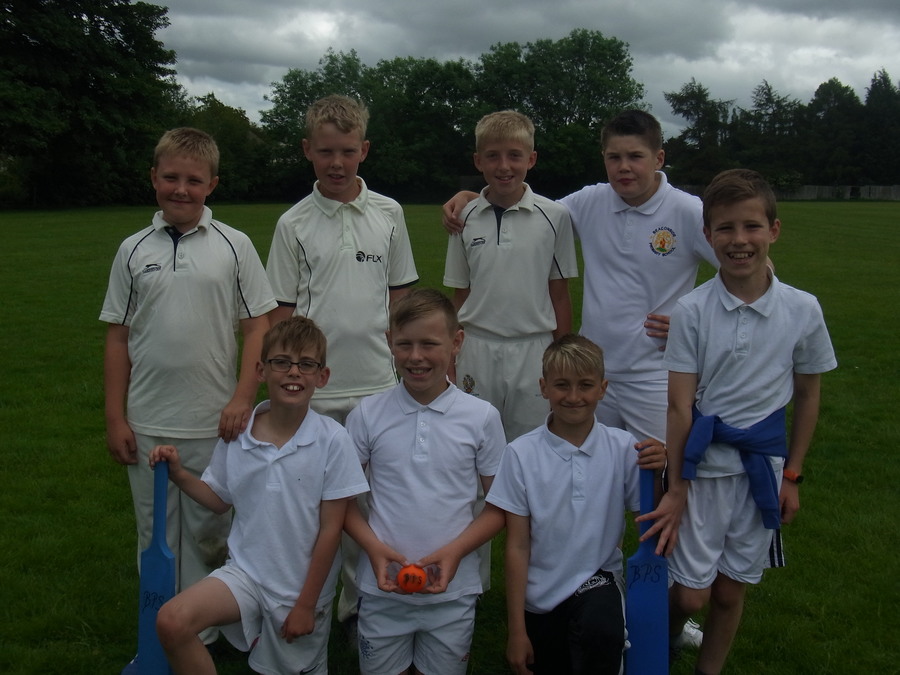 Beaconside Bullets 13.6.2017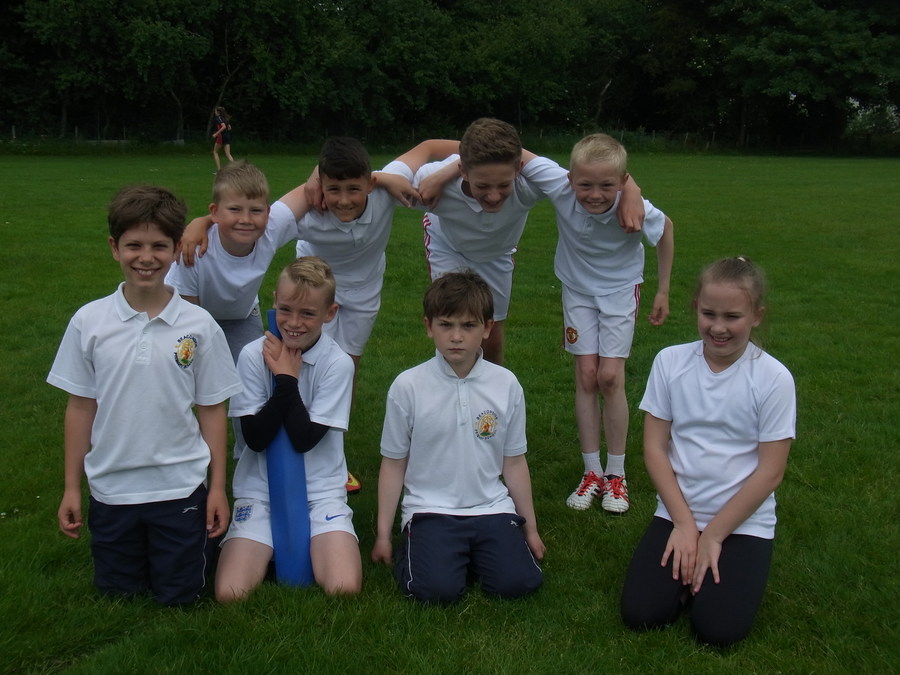 Football area finals- Kirby Stephen: 26.5.17
Beaconside football team reached the area finals feeling relaxed and prepared after two good friendly wins. The final squad had been decided and some additional coaching at lunch times meant that we were ready. It was a scorching day; perfect to be out and about. Beaconside began their tournament against Long Marton and struggled to get going. However, a fine strike from Captain, Ollie Rebanks clinched a 1-0 victory. After strong words and a rally cry after that game, Beaconside played exceptionally well against a strong Stainton side in their second game. Goals from Max Owens and Ryan Monkhouse secured a comfortable win. We entered the third game knowing a draw would be good enough to finish top. We dominated the game and had many chances but failed to convert. A lapse of concentration at the back meant that Tebay managed to snatch a 1-0 victory. Much praise must be placed on our opponents as they defended heroically and their keeper was outstanding.
That meant we had to do it the hard way if we were to meet our pre tournament goals. We played a strong Kirby Stephen side in the Semi Finals. The reaction from the lads after defeat in our previous game was fantastic. A Luke Kemp drilled corner deflected in to give us a lead that we never looked like relinquishing. Strong performance from Ashton Hook and Danny Eland meant we were able to hold on to our lead.
This lead to an all Penrith final against old friends and rivals North Lakes. We started strongly and another drilled corner from Luke Kemp led to a first half lead. This was down to some strong defending from Danny Lund. After the break, we built on this with goals from Max Owens and Ryan Yates. As North Lakes pushed, Josh Swinson held firm and looked very composed until a fine goal in the last minute. Thankfully for us, there was no time left and we had done it. Another super performance from these very talented footballers showing skill, determination and resilience. It goes without saying they played the game in the right spirits and were fantastic sports throughout- Well done lads!
Football Friendly vs Inglewood
Beaconside continued their preparations for the up-coming areas finals with a fine 6-5 win against a strong Inglewood side. The game ebbed and flowed with both teams leading and coming from behind. The game was sealed with an excellent move finished off by Ryan Yates. Well done to both sides; the game was played in the right spirit and there were some excellent goals.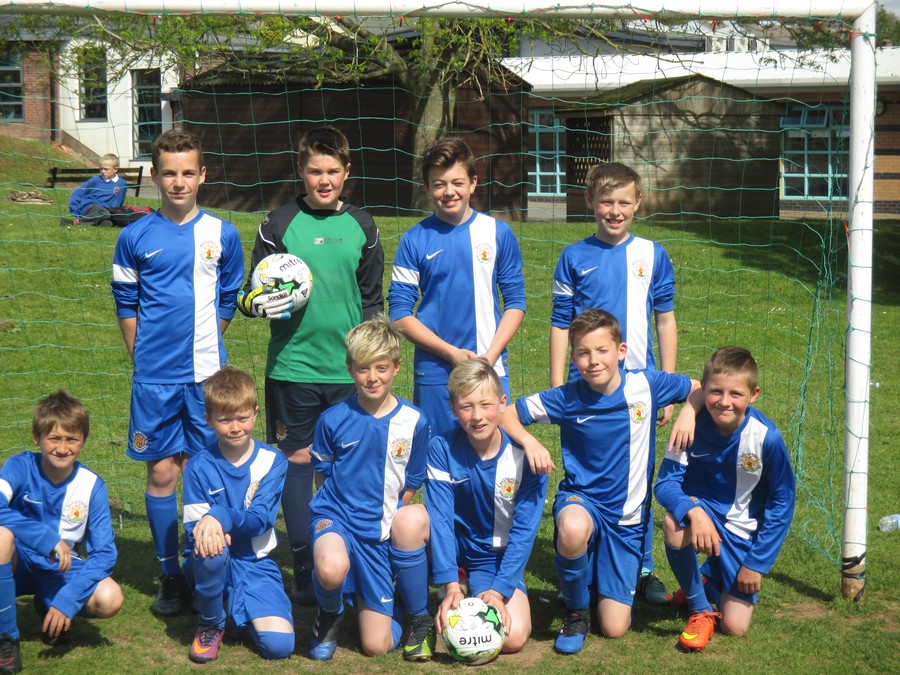 Top (Left to right): Max Owens, Reece Clarke, Danny Lund, Kyle Shearer.
Bottom (Left to right): Rocco Armstrong, Ryan Yates, Ashton Hook, Luke Kemp, Danny Eland, Zach Thompson.
County Girls' Football Festival
Beaconside took two girls' teams to the final football festival of the year held at Harraby, Carlisle. The event is ran by the Cumberland FA in order to encourage wider participation in girls' football. The day was a huge success with both teams having lots of fun and getting another opportunity to hone their skills.
Enter text...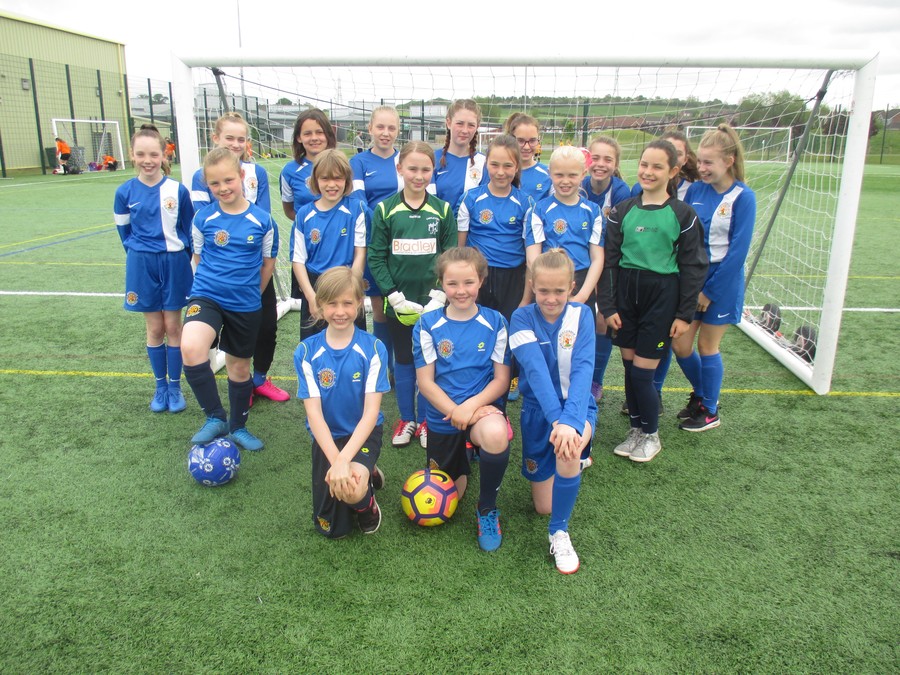 Back row (Left to right): Carmen Holland, Lauren Bowman, Erin Thompson, Georgia Harrison, Bethan Taylor, Emily Davies, Beth Cowperthwaite, Katie Broadhead, Evie Lancaster
Middle row (Left to right): Jacey Austwick, Amara Rose, Sienna Davidson, Laura , Jessica Branstone, Sofia Hellevik
Front row (Left to right): Jessica Rudd, Abbigail Edgar, Lillie Irving.
Enter text...
Eden District Tag Rugby Championship 2017
27.4.2017 (Frenchfield)
Beaconside had a great day at the Tag Rugby Championship, held at Frenchfield sports ground representing the school brilliantly well!
We took two teams from the Lower Unit and Two Teams from the Upper Unit. Everyone played well and in the spirit of the game. Furthermore, it was great to see all our children support our Beaconside Blues team which got to a well earned semi-final play off against Kirkby Stephen first team. It was a hard fought game with Kirkby coming out on top by just 2 tries, the final score was 6-4.
This is the only the second time we have taken lower unit teams and both of them did themselves proud; both drawing two games and winning two.
We hope to continue our rugby success in the future! Many thanks to all the parents and helpers who walked the teams to and from the event.
Below: The teams who represented our school.
Below: Some shots of our teams in action.
Newcastle Falcons Y3/4 Tag Rugby Competition
5.4.2017 (Winter's Park Penrith RUFC)
Newcastle Falcons community coach - Mr Keith Robinson - delivered the AVIVA Tackling Numbers programme for 5 weeks over the course of the Spring term to both of our y3 classes. The programme combined maths with elements of rugby which culminated in a small competition at Winter's Park. Beaconside entered two teams both of which gave it their all and played with enthusiasm and gusto on the day! The team spirit was second to none. All the smiley faces pay testament to how good the afternoon was.
A big thank you goes out to the helpers who got the teams to and from the event. Also, a special thank you goes out to Mr Robinson for all his efforts!
Cumbria County Indoor Athletics Championships 2017
Beaconside followed hot on the heels of their earlier success at the Eden District Finals with a well earned victory at the county championships. From the moment we arrived at the venue we all felt we were in with a great chance doing well! Winning the championship was a brilliant achievement when taking into consideration all the strong teams from all over the county! We had some great results with a number of PB's being obtained in the vertical high jump, chest push, standing triple jump and standing long jump. Victories in 2x2 relays helped consolidate our field scores ultimately leading to our winning score of 547 points! Sportsmanship and supporting our team members really shone through; highlighting a real sense of camaraderie amongst our athletes! Also, it was great to see our team members cheering on our fellow Eden representatives, Shap.
You have worked hard and in doing so have obtained a great achievement, we are all very proud of you, well done guys!
Cumberland FA's Girls' Football Festival.
Hunter Hall Cross Country Championships
08/02/17
The Hunter Hall Cross Country Championships has been the aim all year for some of the children at running club. After last year's success we were hoping to build upon it and show that we have a strong foundation for long distance running at Beaconside. Although we didn't have any top ten finishes this year, we did improve our consistency with a number of finishes in the teens and twenties. A lot of the year 5 and 6 children have another year at this event with this experience proving crucial to their development. The conditions were cold but dry however the course was muddy and undulating.
It was great to see all of the children trying their hardest and showing how far they have come over the last year. With entries exceeding 100 in each event the results were seriously impressive. We'll get back to running this Friday and begin our long build-up to next year's event.
Our cross country team in action at the Hunter Hall Championships 01/02/17
Sedbergh Cross Country Championships
01/02/17
After a long hard year of turning up on a Friday morning at running club, it was great to give the children an opportunity to compete at the County Cross Country Championships. This was a great opportunity for the children to run against the best runners from across the county and give them something to aspire towards. The children embraced the challenge with a smile (as the photographs show) and showed a huge amount of resilience and determination. All of the children did incredibly well and gained a lot from the experience. We hope to return next year and build upon some very respectable performances.
Results
Year 4 Girls
Heidi Hall- 37th
Lucia Bowman 45th
Jacey Austwick 47th
Leah Rose 50th
Lara Hodgson 51st
Elizabeth Smiegel DNF
Team Score: 179 (first four finishers).
Our cross country team in action at the Sedbergh Championships
Sands Centre Girls Football Tournament
04/02/17
The girls arrived at the tournament well-prepared and ready for the challenge that lay ahead. An extremely useful friendly competition on the Tuesday before allowed for the girls to get used to the environment while also allowing the opportunity to experiment with a few things. The group seemed, on paper, to be extremely tough with all schools well-respected and experienced in this format.
Beaconside 1 Eastriggs 0
Harrison
The first game was against a strong Eastriggs side. The game started quickly with both sides creating chances. Sienna Davidson in goal made some excellent saves and we also missed chances leaving the game finely balanced at half time. In the second half Beaconside pushed forward and were dominant but failed to convert until a Georgia Harrison penalty clinched the game.
Beaconside 1 Eaglesfield Paddle 0
Edgar
The second game was against former winners, Eaglesfield Paddle, Cockermouth. This was a very tight game with Sienna again making some excellent saves. Beaconside defended strongly with an excellent display by Carmen Holland. A tactical switch at half time seemed to make the difference as an Abbigail Edgar finish sealed the result.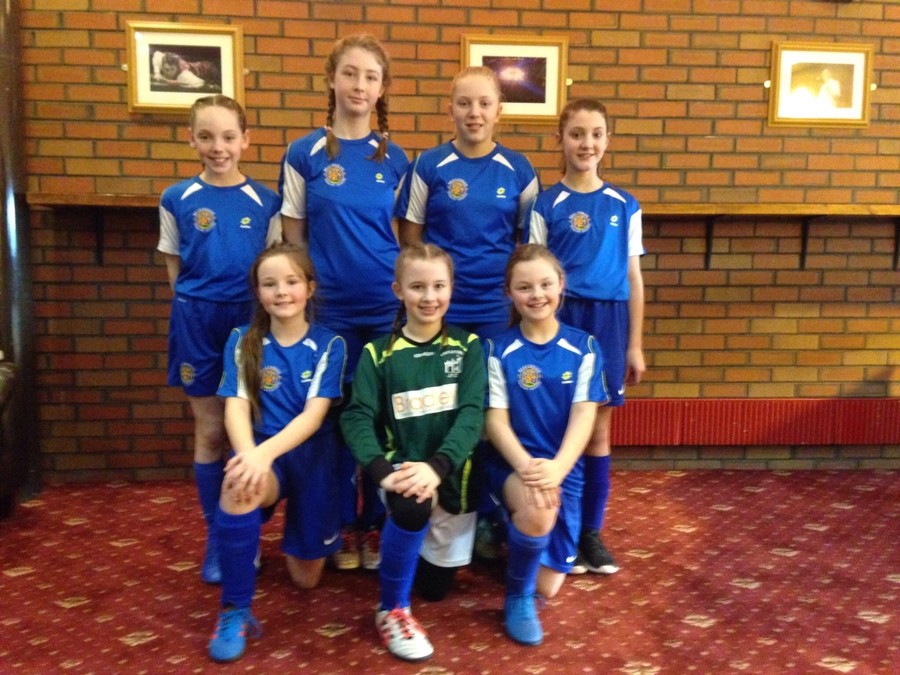 Beaconside Girls Football Team 2017
Sands Centre Boys Football Tournament
21/01/17
Beaconside 3 Bookwell 0
Kemp (2) Shearer (1)
Beaconside started their tournament against a competitive Bookwell Primary School from Egremont. The first half didn't create many chances for either side with Beaconside looking slightly nervous. In the second half, the introduction of Luke Kemp (2) and Kyle Shearer (1) made a huge difference with Beaconside coming out 3-0 victors.
Beaconside 3 Bridekirk 0
Kemp (1) Shearer (1) Rebanks (1)
Beaconside took momentum from the first game into the second game and dominated the first half however only managed to score one goal. A penalty from Ollie Rebanks and a second goal of the tournament from Kyle Shearer in the second half meant again Beaconside won 3-0.
Beaconside 4 Bishop Harvey Goodwin 0
Hook (2) Owens (1) Own goal
Beaconside knew that nothing but a win would do against a youthful yet strong Bishop Harvey Side. An outstanding first half performance from Ashton Hook put the game out of reach of the opposition with Beaconside going in 3-0 up at the break. Despite having all the possession in the second half, Beaconside looked a bit anxious in front of the goal squandering numerous chances. Nevertheless, a 4-0 victory meant qualification was all but assured before the final game. This was the third clean sheet in a row. Huge credit should go to a strong defensive play throughout from Rocco Armstrong who provided a strong platform for Beaconside to work from.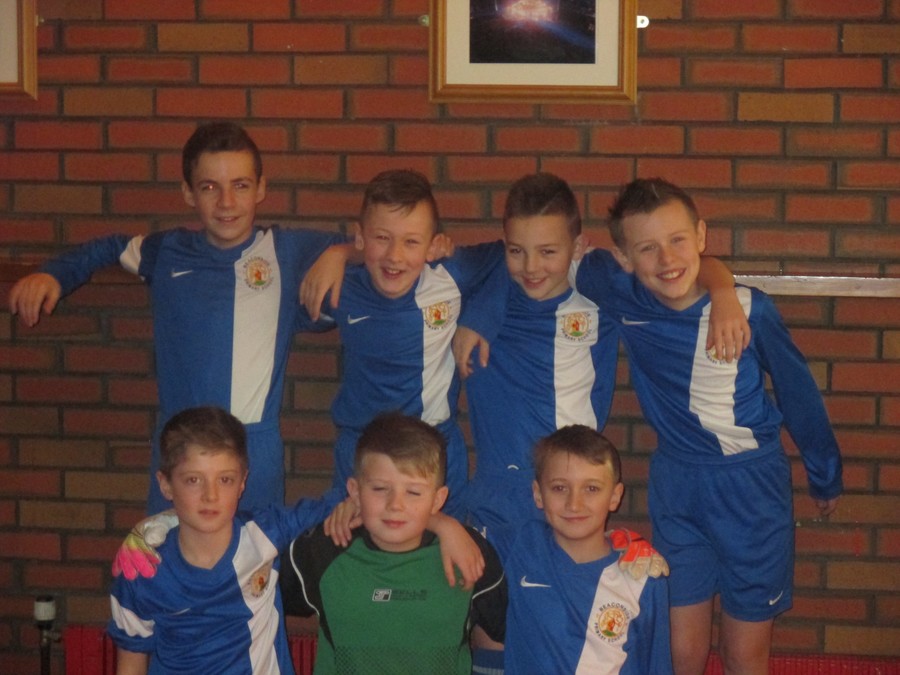 Beaconside Boys Football Team 2017
Tri-Golf Competition
23/01/17
Beaconside had a great time at the Tri-Golf competition at Penrith Leisure Centre yesterday. The children were a pleasure to take and were quite skillful with their use of putters and wedges. A y3 and y4 team represented lower key stage 2 and a y5 and y6 team represented upper key stage 2. Both teams consisted of 5 boys and 5 girls. All of the children represented the school brilliantly much to their credit!
We are waiting with baited breathes to see if either of our teams will go through to the District finals.
A big thank you goes out to our parent and grand-parent helpers, as well as Penrith Golf Club for putting on a great event. It was great to see Mr Page taking a keen interest and helping with the admin side of things too!
Swimming Team
On the 19/01/17 the school entered a team of 31 pupils into the Sports Hub Swimming Gala and came out with impressive results. Pupils from all KS2 classes took part, we were so proud as everyone behaved impeccably and was supportive of each other and the other teams.
A big thank you goes out to all the parents who helped walk the children to the event and for buying all the children a poolside snack too!
We had two Eden District champions in our team:
Beth Cowperthwaite (Y5&6 Girls Butterfly)

Logan Ivinson (Y3&4 Boys Freestyle)
Well done for such incredible achievements, we know you practice hard! Added to this, we had a good number of children coming in the top 10 in most races.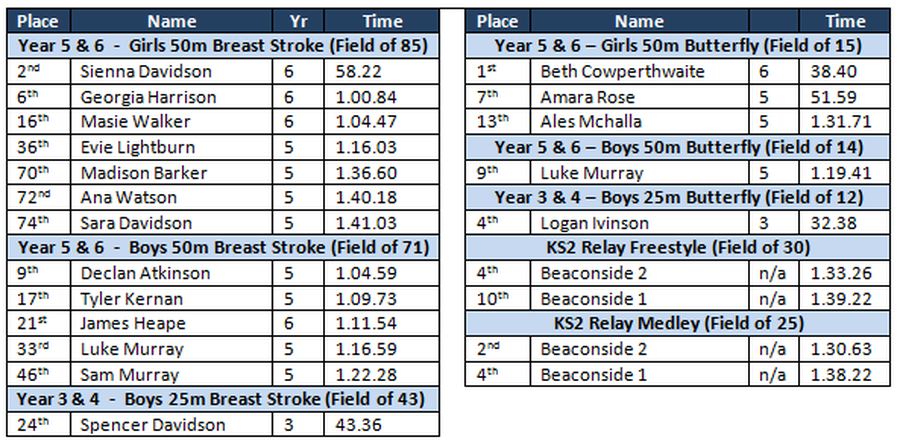 Indoor Athletics Champions!
Indoor Athletics Competition
17/11/17
Indoor athletics club has run for 8 sessions during October and November, with the goal of attending the Eden District Indoor Athletics Championship on 17th November 2016.
This week the team did attend the competition and came out victorious, in the morning heats! Many thanks to Mr Irving for providing some great support for the team. A big thank you goes out to The Eden District Sports Partnership for organising such a worthwhile event.
Beaconside came first overall out of 18 attending teams. We now go through to the county championships in March 2017, at Penrith Leisure Centre. All members of the team gave it their all and competed fantastically well and in the spirit of the championships too. All the children were both competitive and sporting at the same time and represented the school brilliantly!
Photos of Beaconside Indoor Athletics Team 2016/17
Inglewood's Summer Fayre Football Tournament
18/06/17
It was a lovely morning for the annual Summer Fayre of Inglewood Junior School. We were extremely pleased to receive an invite and managed to field two teams-a Year 6 team and a mixture of Year 4 and 5's.
All in all, it was a very enjoyable morning. The children behaved impeccably showing the right balance between competitiveness, cutting edge and sportsmanship. They also showed that both teams can give anyone a game. On another day, with a couple more breaks of the ball, we would have qualified but it definitely does not detract from a really successful morning. Well done everyone.
Beaconside Football Team in Action
Eden District Tri-Golf Finals
21/04/16
Beaconside had a great afternoon at Kirkby Stephen Grammar school in the Eden District Tri-Golf Finals.The team played very well and in a skillful manner. All of the children supported each other and encouraged each other to do their best; to see such sportsmanship is always a privilege and a pleasure. They amassed a huge 800 points and came a respectable third. A big well done goes to the team for such a great achievement!
A massive thank goes out to the all the parents and grand parents who travelled all the way to Kirkby Stephen to support the Beaconside team. Your support is invaluable and massively appreciated at all times!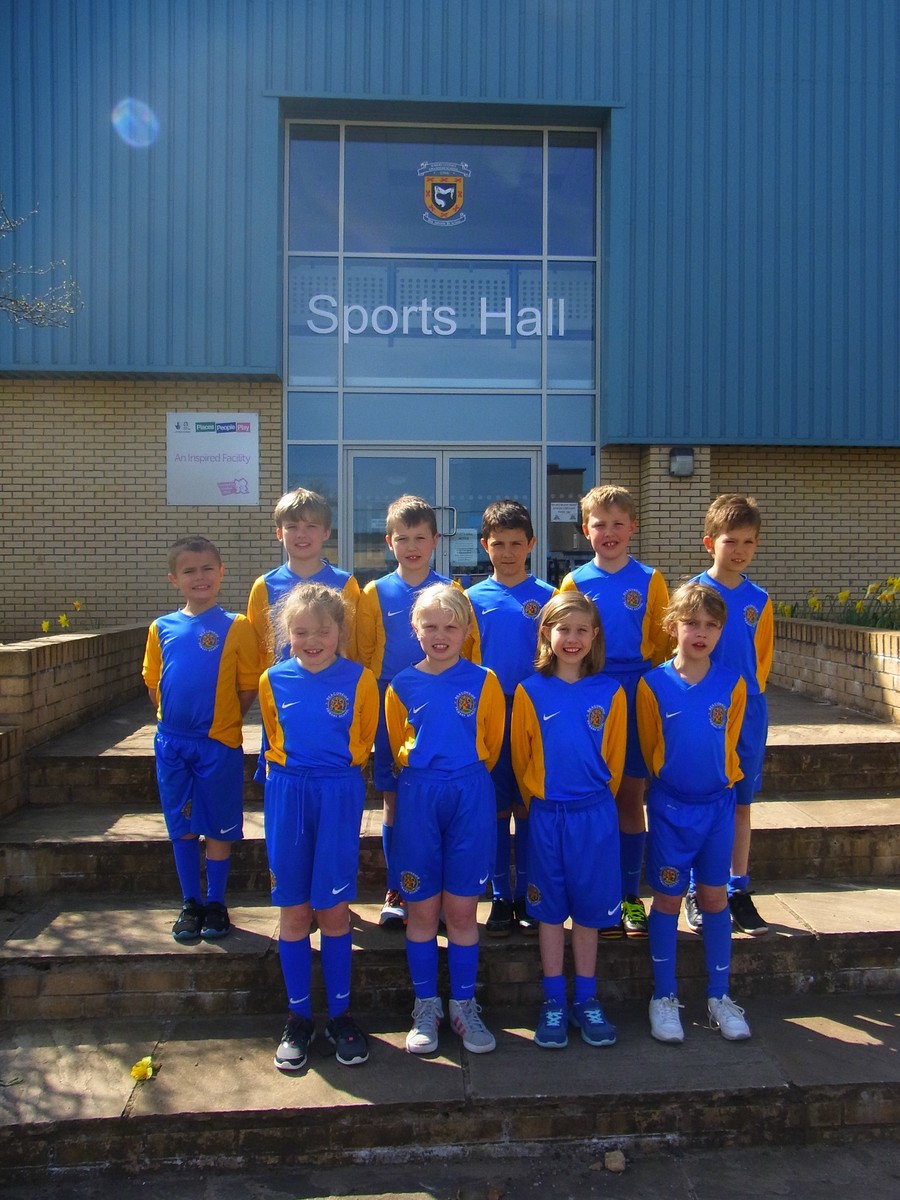 Beaconside Tri-Golf Finalists
NCL Swimming Gala - Penrith Leisure Centre
26/05/16
Mrs Curry along with a host of parents took an enthusiastic team to the NCL annual swimming gala. Beaconside entered a team which consisted of years 3,4,5 and 6.
It was great to see all the children competing in the spirit of the gala and encouraging each other to do their very best. Beaconside were victorious, coming first in the overall standings and the Cannon team won the schools Cannon race, a huge achievement indeed against such stiff opposition.
As always the team's behaviour was nothing short of impeccable. Again, a credit to themselves and the Beaconside community.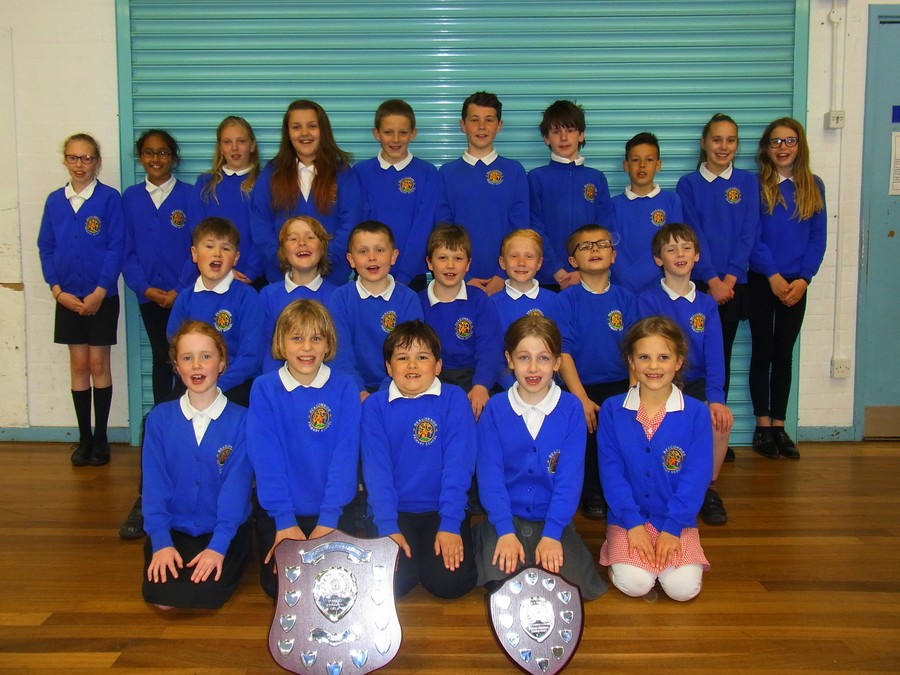 County Indoor Athletics Championships
23/03/16
Beaconside school had a tremendous afternoon at County Indoor Athletics Championship. They competed well as always and came 6th out of a field of 12 very strong athletics teams indeed! Beaconside struggled in the track events however our field events were far different with children pulling some incredible distances and heights out of the proverbial bag. Our field scores pulled us up very well through rankings and we came in a respectable sixth overall.
All the children were fantastically well behaved and represented the school brilliantly too - a credit to themselves, teachers and parents alike. A huge thank goes out to all the parents who helped us with lifts to and from the event and all the parental support at the actual event itself.
Below you can see a range of team and action photographs from the event.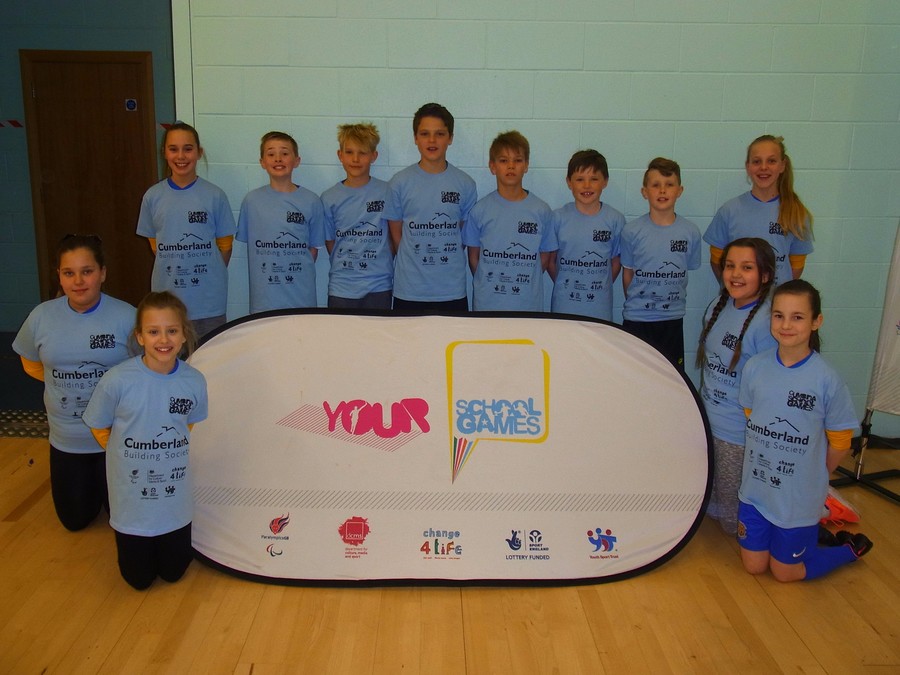 Beaconside Tri-Golf Finalist Team
Eden District Tag Rugby Competition
17/03/16
Beaconside took two teams to the annual Eden District Tag Rugby tournament at Frenchfield sports grounds on Thursday 17.3.16. Both teams were raring to get the bit between their teeth and give the opposition a run for their money and they certainly did too. It was wonderfully sunny day which meant the conditions were perfect for open and expansive chamagne rugby and both teams duly delivered!
A fantastic afternoon was had by all and again- as always - the children represented themselves and the school incredibly well. They were sportsman like and very well behaved indeed! Also, when the chips were down they never gave up and supported each other in a positive manner!
A huge thank you goes out to all the parents and grand parents who got behind both teams and supported them to the max! Another huge thank goes out to all the parents who helped provide transport to and from the venue!
Beaconside through to the county finals...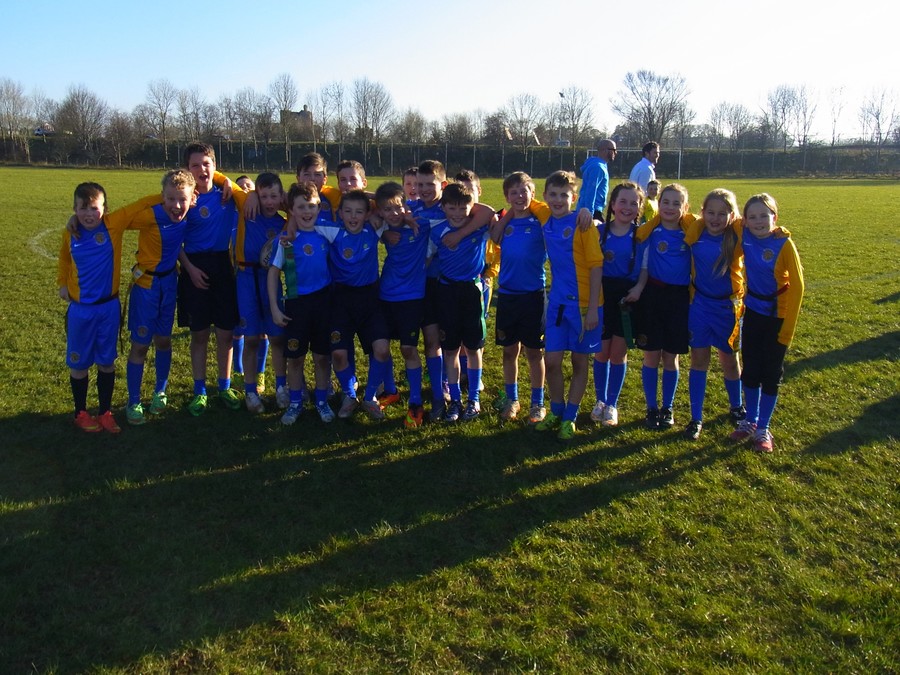 The winning Tag Rugby Team