Our Outdoor Learning Curriculum
Our children love being outside and having fun exploring, some do not always have the access to outdoor spaces and children's lives are increasingly filled with indoor games and electronic devices. We give them the opportunity to engage with wildlife, enjoy investigating and play creatively in our outdoor spaces. This enables us to allow every child to be imaginative as well as physically active and healthy. As well as cross curricular activities that use our outdoor spaces, children from Reception through to year 6 have dedicated outdoor learning lessons with Mrs Sarah Thomas our outdoor learning specialist teacher.
There is strong evidence that when learning outdoors children:
Attain higher levels of knowledge and skills

Improve their physical health and increase their motor abilities

Socialise and interact in new and different ways with their peers and adults

Show improved attention and enhanced self concept, self esteem and mental health

Change their environment behaviours and their values and attitudes
At Beaconside we feel it is important to enable children to use the outside environment as a context for learning throughout the year. To see seasons change and how these effect the wildlife and plants around them.
Early years
In Reception, we firstly show them around the grounds to develop an understanding of keeping ourselves safe. We make pretend bonfires, we look at the colour changes in the autumn, at Christmas we decorate an outside Christmas tree. We follow trails, make bird's nests, go on imaginative story adventures and dig and weed in raised beds. Pond dipping is always loved and is repeated in Yr 1 and 2 when further more detailed scientific observations are made of the invertebrates. All of these activities are possible because we ask parents to bring in wellies and waterproofs. We do go out in nearly all weathers!!
Key Stage 1
Yr 1 and Yr 2 continue having outdoor learning activities that can develop into all areas of the curriculum. We go on invertebrate hunts, learn about a variety of animals through outside games, observe species of birds for the RSPB, make animal homes and learning about habitats. The children love orienteering and work with a partner to support each other. We make story maps and maps of the grounds. Some of the outdoor play activities are ones which children could continue at home, at the park or the beach. Such as making pictures out of natural materials, making farmyards out of stones, making mud hedgehogs or putting up tents.
We value the outdoors and so do the children, there is always a buzz about what we are going to be learning about. Many of our lessons take new tangents, from teacher plans, when a child makes an observation e.g. "I can see a dragon in the clouds", we would take this as a learning opportunity. Another example would be, "There is a dinosaur print in the mud", and this could lead into a big story adventure searching for more clues. We take advantage of unusual weather opportunities, so when it snows we go out and make snow-castles, when it's raining we may look at concentric circle patterns in puddles.
Key Stage 2
Key stage 2 are now enjoying regular outdoor sessions and these have included pond dipping, problem solving and team building activities. Year 4 children designed elf houses to replace their homes that have been destroyed in a storm, as part of science week.
We hope that our children will always be happy, motivated in the outdoors as they are now and that they will always love nature and having adventures.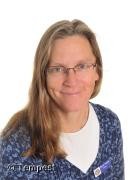 Mrs Sarah Thomas - Outdoor Learning Leader