Our Libraries 2015-16
Curiosity Kits are book bags with a difference. Designed to capture the interest of readers who are a little reluctant to pick up a book or simply lack self-confidence in their own reading skills, these kits go a long way in achieving this objective. On top of this, they are a great tool to further encourage and stimulate children who are reading well and independently.
Year 4 children have been enjoying exploring our curiosity kits with the help from our year 6 librarians and Miss Gavican.
They have chosen to look at topics such as Planes, Volcanoes, Hibernation, Titanic to name but a few. However, there is a wealth of different topic areas to further explore and enjoy, in the curiosity kits.
Each bag contains a word-search, design sheet, magazine, a non-fiction book and a related toy or artefact .
We are looking forward to September 2016 when the new year 4's can take full advantage of these excellent and stimulating resources.
Miss Gavican and the Year 6 Librarians have created a brand new "London Eye Mystery, " themed display which ties in perfectly with next terms year 5 and 6 power of reading topic. Hopefully, this will inspire the children to grab a copy off the shelves and delve into the book before the topic starts. Miss Gavican and the Librarians have mirrored this for the year 3 and 4 topic on the Volcanoes/ Natural Disasters and produced a lovely volcano model and display.
If you are in these year groups, please come and take the time to have a look during morning breaks and registrations.
Our Libraries 2014-15
Our new and exciting Junior Library is now ready for all year groups to enjoy, from Year 3 up to Year 6. We have a wide range of colourful, interesting reads for all abilities.
There are displays of paintings, artefacts that relate to all the topics in which each year group are learning about and displays of paintings.
We have been very busy with the re-organisation of our new fiction books which are now in alphabetical order so if the children love a particular Author they can quickly go to the correct place and look for the Authors surname. Our next step is to have the books organised according to specific genres.
We have brand new 'quick reads' for children who are using the library for the first time; these have aqua star stickers on them so all can find a book easily.
There are also lovely picture books which children can borrow and take home.
There is now a fantastic selection of new fiction books which are on loan from Library for Schools. These are changed every term and have blue circle stickers on them.
Rachel Perry visited us from the "Library for Schools" programme to help organise the Non Fiction books. We have now set up the Dewy system which consists of listing the books by number and colour codes to enable the children to find a non-fiction book easily.
We hope the children will enjoy our vibrant library.
Infants and Early Years
This year we are also beginning to improve our Key Stage 1 and Early Years Libraries. This June we have just taken delivery of more than £1000 worth of beautiful new fiction books which will help stretch our best readers and offer more choice to those children still building their confidence up. There is something for everyone.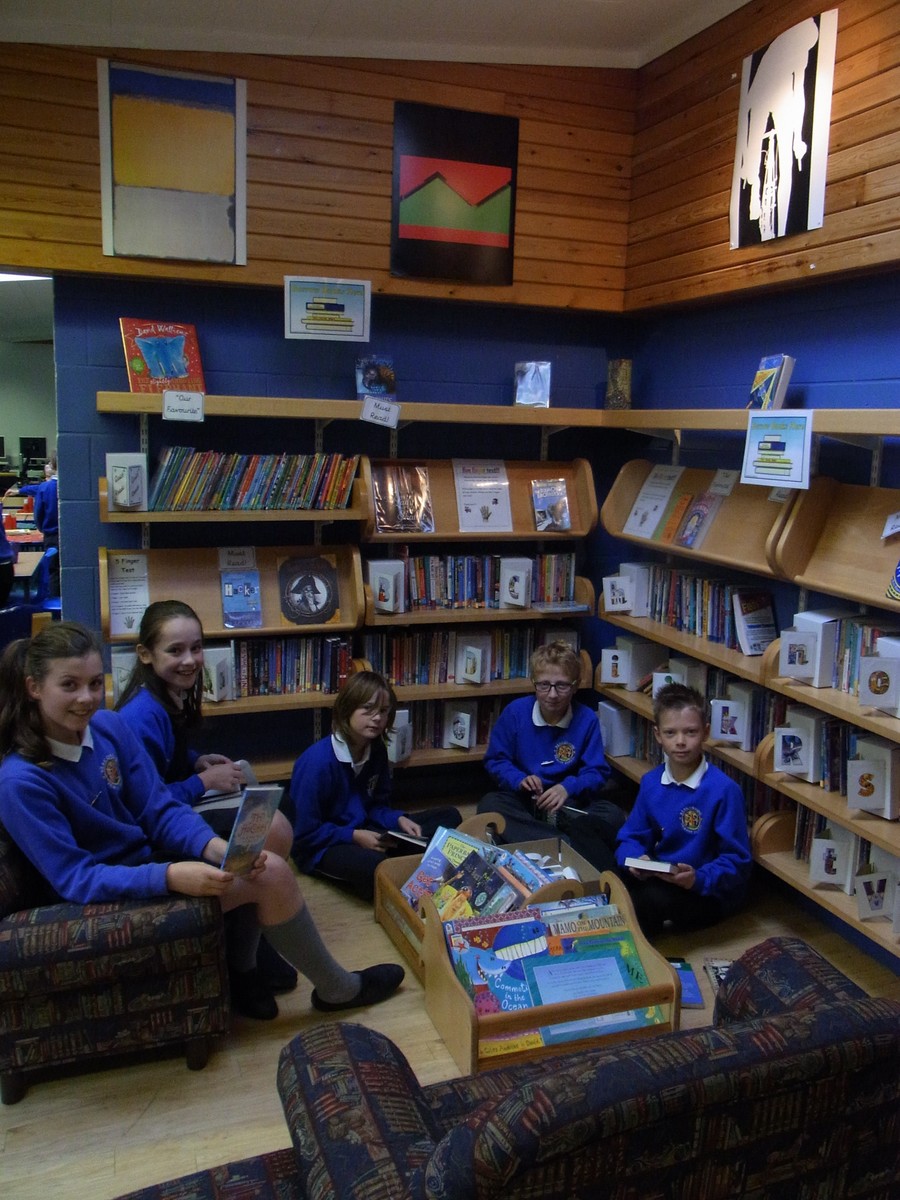 Library Playtime Games
Children right through from year 3 to year 6 have been enjoying exploring our library books.
They have been playing 'Beat that' games, which are like top trumps for fiction books.
They also played 'Go find a book', which the children who visited really enjoyed. The task was to find a book that your best friend would like, one that the Queen would read, one to make your teacher laugh and one that your favourite singer would like etc.
Our year 6 librarians have enjoyed helping all the children who visited.
I hope to set this up again in the Autumn/Winter time, and hope the new year 3's enjoy exploring our library books.
Miss Gavican