Clubs And Sports
The school offers all children the opportunity to take part in a range of activities throughout the year additional to the national curriculum.We have an enthusiastic staff who provide a variety of clubs which cater for range of children's interests.
To provide variety the timetable will be refreshed every half term. Prior to the club starting a letter will be sent home with your child, please fill in the permission slip and return it to school alternatively please get in touch with the school office to sign up.
Please click on the links below for more information about the clubs and photos from recent events.
Club Timetable – Summer Half Term 1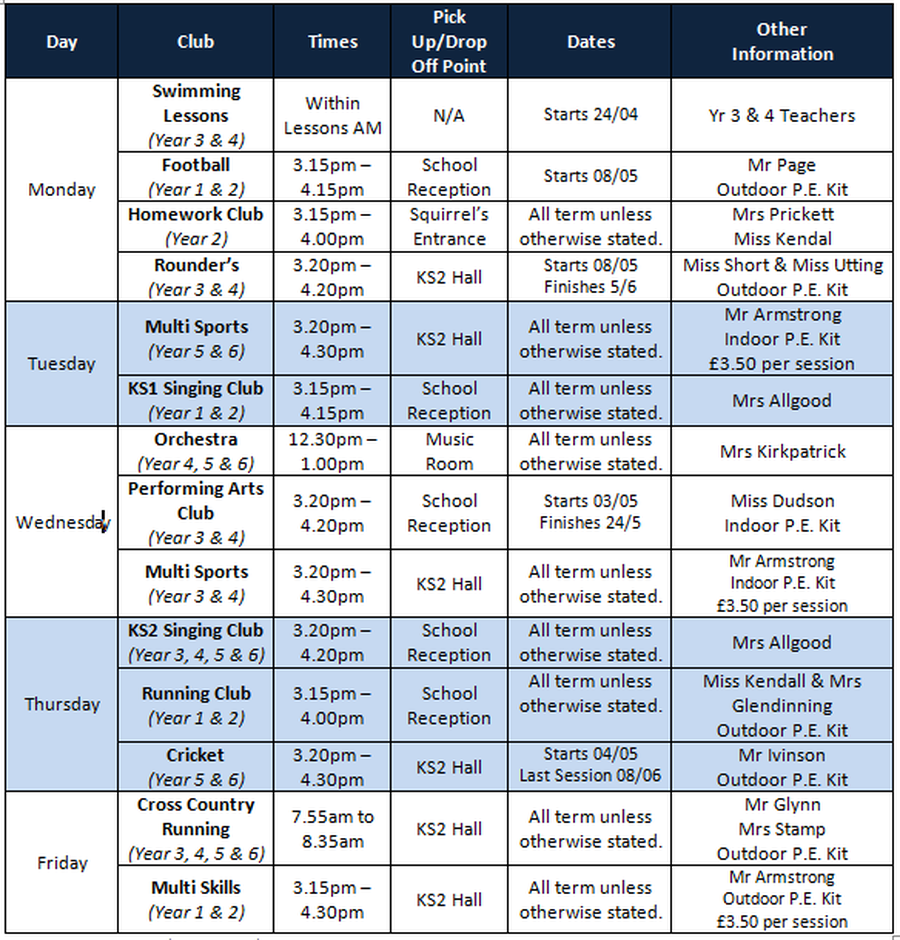 Valid from 24th April to 26th May 2017
Mrs Kirkpatrick runs a school orchestraalid from 24th April to 26th May 2017 on Wednesdays from 12.30 (ish) until 1 pm. Children need to go on first dinners and then come to the music room with their instruments.
The rehearsal schedule this term is:
1st March - recorders
8th March - violins and cello
15th March - Brass, sax, cello and guitars
22nd March - Keyboards, recorders, guitars and cello
29th March - all
All clubs will run on a first come first serve basis, therefore booking a place is essential. In the event of you needing to cancel the space for your child, you need to either notify the school office or the lead staff member directly so we can account for the respective child's whereabouts.