Year 6 2016 - 17
This year the children have the chance to apply for a range of different roles and responsibilities.
It is a very exciting opportunity for the children and we hope that they enjoy these added responsibilities. Applications have been handed out in class but there are links to the forms below and we will look at the applications week beginning 12 September 2016.
Planning and making a scaled Solar System.
Year 6 have been celebrating SATS being over by taking on a rather ambitous task. They are re-creating a solar system model using Papier Mache. While not exactly to scale (as it was impractical) the children have using a range of maths skills to convert and work out a scaled version of the model ensuring each planet is in order of size. The children have been working in kagan groups reinforcing the importance of collaboration and teamwork.
Eden Rivers Project 15th and 16th March 2017
Linking in with our flood topic the children were treated to a superb "Natural Rivers for Life" programme delivered outstandingly by Eden Rivers Trust. Children found out about life in rivers - focusing on invertebrates and identifying them. They also investigated the impact of farming on river courses along with learning about flood defenses, river channel modification and land management. Minds were indeed lit up and the children were totally engaged and focused; as can be seen in the below pictures. A big thank you to Mrs Bulter for organising the event for all Upper Key stage two classes and Eden Rivers Trust for a brilliantly captivating study!
Year 6 Glenridding Beck River Study 9. 3. 2017
Both year 6 classes and a handful of year 5 U-dancers had a fantastic day following the course of Glenridding Beck from source to mouth. All the children got to see first hand classic river features from meanders to spits and point bars. In addition to this, they also got to see how many has influenced the river system in the valley. Furthermore, they all got to see first hand the impact of "Storm Desmond " on the beck and Glenridding itself and how man has subsequently reacted to the storm and floods. All of the children were inquisitive and asked some pertinent questions. All of the group were incredibly well behaved representing the school brilliantly in our wider community. A huge thank you goes all the staff who helped put the trip together and to Glenridding village hall for allowing us to eat our lunch in a lovely warm environment.
Christmas Dinner 2016 - 7.12.16
6S and 6G enjoyed a highly successful Christmas dinner. All the smiley faces tell a very positive story of children who could hardly wait to sit down and enjoy their delicious dinner. The atmosphere was great, as was the delicious food!
Year 5 and 6 Inter-class football competition 21.10.16
What a way to finish the end of the first half-term! Classes playing each other to see who would become Upper Unit champions at football. This highly anticipated event turned out to be worthwhile, sporting and very competitive indeed! Three teams from each class were placed in mini-leagues with the winners going through to the semi-finals. Semi-final 1 was Mr Greenaugh's Team 1 v Miss Stamp's Team 3. Mr Greenaugh's team ran out 8-0 winners. Semi-final 2 was Mrs Butler's Team 2 v Mrs Stamp's Team 1. Mrs Stamp's team came up trumps with a 3-0 victory.
This set up a thrilling final between Mr Greenaugh's Team 1 and Mrs Stamp's Team 1. Both teams were evenly matched throughout this highly paced final; which saw a last minute goal by Mrs Stamp's team only separating the two.
Our congratulations to Mrs Stamp's team on their well earned victory to become Upper Unit Football champions 2016.
Year Gymnastics during expert time (Thursday afternoons)
Below are examples of year children perfecting various moves for their routines which they eventually put together during their last session; to create a floor routine which incorporated differing levels, rolls, balances and jumps.
Well it's great to back; plenty is happening and being planned over the 2016 Spring term for year 6. We hope you and your child will relish the new term ahead!
Kind regards,
Miss Short, Mrs Waugh and Mr Bird.
Poetry Day with Ian Bland (Young Peoples Poet)
On Tuesday 22nd of March, poet, Ian Bland, paid Beaconside a visit. As a school we have been working hard to raise the profile of English for all children and recognised that poetry can sometimes be overlooked in a busy curriculum. We invited Ian into school to share some of his own creations and to encourage children to create their own. We were not disappointed! The children were treated to a poetry performance session in the morning where they joined in with rhyming verse and actions. In addition to this, every child worked with Ian throughout the day in a poetry workshop where some fantastic poems were written. Overall a great day was had by staff and children alike, we hope to use some of the poetry techniques we learnt in the future. Many thanks to the PTA who funded the visit, we all thoroughly enjoyed it!
Below is Ian performing his "I'd like to be ..." poem for the Y5 and 6 children.
Below are some year 6's performing rough drafts of their "I'd like to be..." poems.
Science Week 14 - 18th March 2016
6S Displaying Models
Below 6S are proudly display their flight models before going onto testing how far they could travel in flight. The class had to research a range of flying animals ranging from insects to birds before designing and actually making their models. Furthermore, each model underwent test flights so adjustments and improvements could be made highlighting children's ability to analyse and improve their model. As you can see many different designs were created taking the best bits from their research on nature.
Ullswater Community College Students visiting during Science week
We were lucky enough to have a select number of Year 8 students come and visit year 6. They showed our year group some truly fascinating ways in which they could get objects to move using propulsion, chemical and mechanical science to obtain movement. The students were enthusiastic and inspiring. Furthermore, they were a credit to themselves and the college. Many thanks UCC!
6S New Front Cover Designs of Julia Donaldson Books
Below are a myriad of new book covers which have been designed by 6S for a range of Julia Donaldson books.
Extreme Reading Display
Year 6S and 6W had a good show in the extreme reading competition! Crazy reading in crazy places or doing crazy activities when reading. Clearly, good times were had by all and it is very clear a great deal of imagination went into Extreme Reading!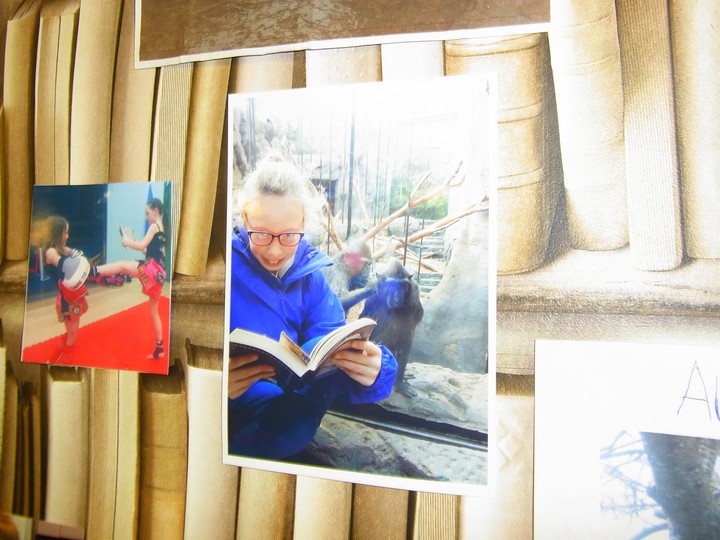 World Book Week and World Book Day Extravaganza
Here at Beaconside the school is wholeheartedly embracing World Book Week and World Book Day!Everything we are doing in class is going to be based around the Julia Donaldson books. Make no mistake a myriad of exciting activities are unfolding over the course of the week.
Drop Everything and Read - at different intervals during the week, for 10 minutes. Any book, any genre, any time! Awesome!
Reading Buddies - Older children read aloud to younger children; classes have been allocated a buddy class this week! Superb, there couldn't be a better way to encourage both older and younger children to read.
What are you reading and why? Children write down what they are reading and write a recommendation about their book! No, better way to highlight a deeper understanding of the book they are reading and enjoying!
Teacher slots - Children will visit teacher of their choice and listen to an extract from that teachers favourite children's book.
Extreme Reading! Children get parents to take photographs of them reading a book in a crazy place or doing a crazy activity! I'm sure we will get a great response and a lot of belly laughs!
Guess the Teacher - Teachers are covered by their text and children must try and guess the teacher who is reading. Endless fun!
Dress up as a Julia Donaldson character! On World Book Day itself children and staff are encouraged to come to school as a character from one of her books! We are expecting everything from Gruffaloes to Tiddlers; plus everything in between. The fun in brainstorming ideas for a costume is endless! Hard work for parents however the end result is always worth it- memories that will last a lifetime!
Below is a scene from the Scarecrow's Wedding!The book which which Upper Key stage 2 are basing their writing activities around. How cool is that? Many thanks to Miss Short for putting such a brilliant display together.
Year 6 U Dance Festival at Theatre by the Lake in Keswick
On Monday 29th February 6S travelled to Theatre by the Lake in Keswick to take part in the annual U Dance festival. This year our theme was 'London' and we focused on British themes. The children created their own dance, with the help of Miss Short, and worked hard over the spring term to perfect it. On the night, the children were fantastic ambassadors for our school, wearing their costumes with pride and dancing with energy and enthusiasm. Yet again U Dance was a fantastic event that was enjoyed by all. Many thanks to Mrs Curry and Mrs Sharp who accompanied Miss Short and the class on the trip!
Lenticular Art Pictures and Poetry
Mrs Waugh's class have been incredibly artistic and creative both with their recent poetry and Lenticular art designs. Please look and enjoy.
Year 6 Cake Sale in aid of Cancer Research
On Friday 2nd February a group of year 6 children, led by Lara Vogt, organised a bake sale to raise money for Cancer Research. Many children and parents were kind enough to bake at home and donated lots of tasty treats! On the day of the event, children and staff were queuing down the corridor to buy their cake and thanks to everyone's support the children managed to raise a fantastic £320 which smashed their original target of £100.
Thank you to everyone who made the event possible and to those who supported it.
Y6 Power of Reading text - The London Eye Mystery
Below are some examples of written work which have been generated from our Power of Reading Text - The London Eye Mystery. They range from brainstorming ideas to character sketches.
Year 6 Gymnastic Routines
During expert afternoons Year 6 pupils have been arranging and piecing together a gymnastic floor routine made up of a number of elements - working at different levels, using different boy parts to balance on, jumping, rolling, wheeling and tumbling. All the routines have gone through a number of changes; evolving over time. The ultimate goal was for each child to deliver a routine which was seamless and flowing. Children worked in pairs analyzing each others performances giving advice on the execution of moves and the putting together of each others routines.
Below are a range of routines all differing in complexity and competence.
Y6 Science with 6S
Below you can Miss Short's class are hard at work setting up experiments to identify which materials conduct electricity and those which do not using circuits. Finding out about properties of materials is a wonderful chance to delve into the wonders of science and find out how differing materials have a wide range of properties which can be put to use in a myriad of useful and effective ways.
Year 6 sketches of famous London landmarks
Below are a range of sketches produced by Year 6 on return from their trip to London. These pieces highlight a range of drawing techniques and skills which create body and depth in these pictures.
Year 6 London Trip - November 2015
Below is a slideshow of a vast number of pictures taken during the incredibly successful trip to London. You can see all the Year 6's had a fantastic time visiting a myriad of famous tourist sites, during their stay in London. Countless sites and countless numbers of smiles say it all!
A huge thank you goes out out to all the staff who attended the trip and all the staff who put hours and hours into organising such a wonderful experience for the year 6 pupils; who will-no doubt-remember this experience for the rest of their lives!
Children in Need Day (13.11.15)
Class 6S went to some incredible lengths to come dressed as various hero's and superheros for Children In Need Day. Can you guess who has come as who? We have a range of people from Suffragettes to Book Characters and from Grand-parents to Sporting individuals. All the children looked the part. Many thanks goes out to all the parents who helped put together their hero attire, never an easy job and always stressful! Interesting, but always worthwhile and funny to boot. Miss Short, Supergirl indeed!
Harvest Service - St Andrews Church - 2.10.15
The Harvest festival proved to be a thought provoking service on Friday. It was great to hear y6 narrators from both Mr Brotherhood's and Miss Short's class read with great time and meter and intonation too. Furthermore, it was lovely to see the y6 children help younger speakers through their lines at the front of the church. Also, two y6 boys did a fantastic job of running the slide shows on the computers - highlighting their great Ict skills.The singing from the school was brilliant and the children in y6 thoroughly enjoyed the event. As you can see from the photographs, smiley faces were aplenty indeed! Many thanks to Mrs Allgood and Mrs Malyon for all their hard work and effort in organising such a thought provoking, yet uplifting service.
Tour of Britain 2015
Year 6, along with the rest of the school, had a fantastic afternoon watching the Tour of Britain pass over Beacon Edge on their way to the stage finish at the top of Hartside Pass. Being highly anticipated the Tour created a buzz of excitement amongst the children and the staff alike! Plenty of enthusiastic cheering took place on a brilliantly sunny September afternoon, something we all needed after an indifferent summer.