Welcome to our Hedgehogs Reception Unit!
2016-2017
Mrs Tatters, Mrs Allgood and Mrs Bell
Our Learning
Each morning the Reception children take part in Phonics and Little Big Maths Sessions. The children also participate in weekly group Guided Reading Sessions, and read individually to an adult each Wednesday. In the afternoons, we focus on topic-based activities linked to the Literacy and Understanding of the World strands of the curriculum. The children take part in one P.E session each week. Our Continuous Provision activities, both indoors and outdoors, are linked to our half-termly topics, and support the development of the children's skills, knowledge and understanding in all areas of the Early Years curriculum.
We are very lucky to have such fantastic school grounds, and the children explore these surroundings during Outdoor Education sessions every other week. The children also take part in Music and Religious Education sessions on Thursday PPA afternoons. Through RE the children are provided with an introduction to Christianity, our Christian school ethos, and opportunities to explore cultures and religions around the world.
In all our lessons and activities we support and encourage independent learning. Our aim is to help our children gain a sound foundation of knowledge and understanding, develop confidence in their own abilities and be secure in using the skills they have gained as they begin their journey through their school life at Beaconside.
Mrs Tatters' class held their Supertato themed class worship today (23.5.17),
with parents and grandparents invited to attend.
Fantastic reading, speaking, acting and singing from all children -
Mrs Tatters is very proud of you all!
A lovely sunny day to head outdoors to make tents!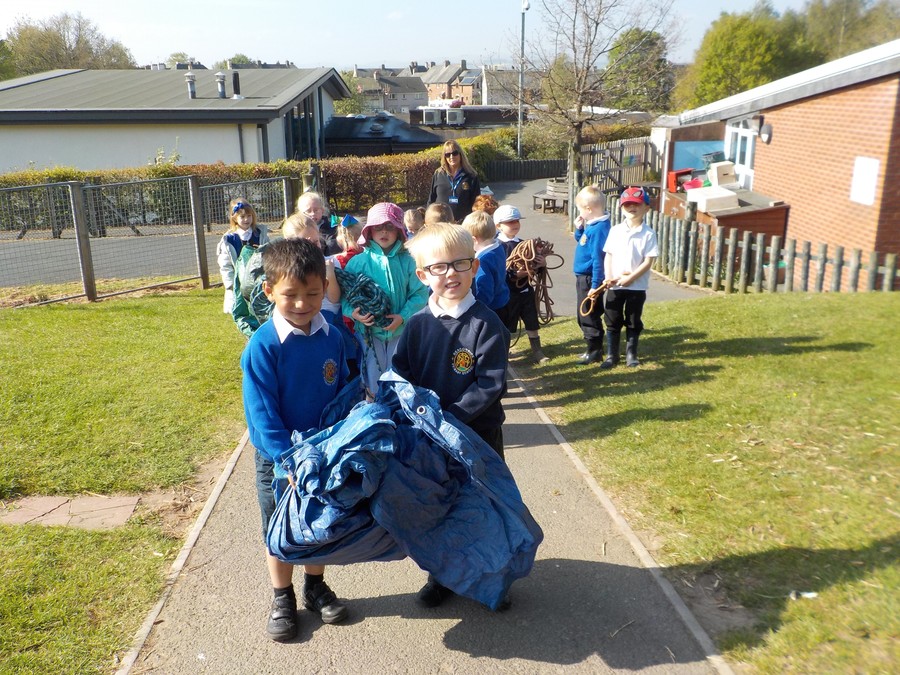 Our tent building day in the lovely sunshine
All Reception children took part in a dance workout to raise money for Lepra - a charity which raises money for children with leprosy in Africa. They all worked really hard and had great fun.
Thursday 2nd February - Matt and Morag from Penrith Mountain Rescue pay us a visit.
What a fantastic start to our afternoon! As part of our topic "Frozen" and linked to our reading book 'Lost and Found' by Oliver Jeffers, we were very pleased to welcome Matt who told us all about the volunteering he does with Penrith Mountain Rescue, and in particular how he is training his dog Morag as a search and rescue dog. She was such a friendly and well behaved dog and she answered all the questions the children asked with lots of friendly barks!
Friday 27th January - Chinese New Year Celebration
Today we enjoyed lots of activities linked to the celebrations of Chinese New Year. The children were able to make masks, write Chinese numbers, make a dragon, visit the Chinese Takeaway and many other activities.
Autumn Term 2016
Tuesday 18th October - Dr Sanders Visit
As part of our topic 'Marvellous Me' we were very pleased to welcome Dr Sanders today. He talked to us about how to keep ourselves healthy and also showed us some of the equipment he uses in his work as a GP. One piece of equipment was an old ear trumpet used to listen to babies inside their mummies tummies!
Fruit Tasting and Picnic
We had a great time chopping and preparing different kinds of fruit. Then we all sat outside in the sunshine for our fruit picnic.
Our Visit to the Library with our Buddies
To help us with our reading we walked down to the library with our buddies for a special visit. The librarian read us some fantastic stories and then we chose books and shared them with our buddies.
Our Buddies
On Friday afternoons our Year 6 Buddies come to help us with our reading. We all share a book which we choose with our buddies. We have a great time.
Tuesday 14th June 2016 - Mrs Tatters' Class Worship Time
We retold the story of 'Farmer Duck' by Martin Waddell in our worship time, which reminded us all of the need to be a good friend who helps others. Rory and Lucas played the parts of the duck and the farmer extremely well, supported by the other children as the farm animals. Kai, Calli, Daisy and Justin narrated the story, and Daisy read a prayer aloud at the end of our worship time. Well done everybody!
Annual Key Stage One Easter Bonnet Parade 24.3.2016
Please have a look at the below pictures of the Key Stage One Easter Bonnet parade. It was another fun filled event which the all the children in Key Stage One thoroughly enjoyed taking part in - as you can tell by all the huge smiles and waving. All the of the children (as well as the teachers) in Key Stage Two loved viewing the beautiful bonnets and baskets. The bonnet parade is something we all look forward to with great anticipation in the Beaconside yearly calendar - a day not to be missed for all the right reasons! A huge thank you goes out to all the parents for their efforts in helping to make a bonnet with their child. Seeing smiling faces like the ones below make it all worthwhile! See if you can spot your child. Have a wonderful Easter holiday from the Reception team.
2015-2016
Mrs Tatters, Mrs Allgood and Mrs Glendining
Friday 12th February.
We enjoyed our Chinese New Year celebrations. We made our own dragons, had a go at writing Chinese symbols, and tried some Chinese food. We liked prawn crackers best.
Wednesday 10th February
Mrs Tatter's class and some of Mrs Allgood's class visited the Post Office on the second of our trips to post our letters home, after reading our book 'Herman's Letter'. Thank you to the Sorting office staff and to the parent helpers who accompanied us.
Tuesday 9th February
Mrs Glendinning's class and some of Mrs Allgood's class went to visit the Penrith Sorting Office as part of their work on their book 'Herman's Letter'. Two Post Office managers showed them how the letters arrive, get sorted first into areas of Penrith and the surrounding villages at 6 o'clock in the morning. Then the postal delivery workers arrive and sort the mail for their own rounds into actual streets. We were amazed to find out that each individual house has it's own slot on a shelf at the sorting office! Then the children all posted their letters home into a big red postal sack and Carol explained that this sack would go to Carlisle so that the letters would get franked because there isn't a franking machine in Penrith anymore. Ollie Birkett asked when the midnight post train arrives in Penrith, but we found out that letters aren't delivered on the train anymore, they come by truck up the motorway! What an interesting visit we had! Thank you to the Sorting office staff and to the parent helpers who accompanied us.
Razzamataz! - February 2016
Lauren from Razzamataz came to teach the Reception children how to dance! Everybody really enjoyed the sessions, and Lauren has offered free taster sessions to the children if they use the voucher they were given, on 10th February 2016. Please see the Reception boards for details.
Autumn Term
What a busy first half to the Autumn term it has been! The children have confidently settled into the full-time routines and are enjoying the delicious lunches provided at dinnertime. The warm,dry weather enabled us to explore the whole school grounds on an Autumn walk. We collected leaves, acorns and other items for our indoor investigation tray and made the most of the beautiful colours. We visited St Andrews Church to celebrate our Harvest festival and learned about how important it is to share what we have with others. Just before half-term, we held a 'Stay and Play' open morning. We invited our families into the Reception unit and shared with them some of the things we do during our busy days at school. Many thanks to everybody who attended and provided such positive feedback. We finished the half-term by reading 'Handa's Surprise', and enjoyed tasting the exotic fruits Handa took to her friend, Akeyo. We then made a shopping list of our own favourite fruits and made a huge fruit salad for everyone to share and enjoy.
Stay and Play 0ctober 2015
Looking ahead to the next half-term...
Our topic is Light and Dark, with an emphasis on Space. We have our own space rocket/space station role-play area, and a dark den full of light sources and reflectors. We are using a number of texts to support the topic, including 'How to Catch a Star' by Oliver Jeffers. As we move into December, thoughts turn to the Christmas Play, parties and other exciting events so please watch the cloakroom notice board and the website for more information nearer the time!